Specifications:
Processor: Intel Mobile Pentium II 300MHz
64MB of Memory Included - upgradeable to 256MB
Hard Drive: 4.3 GB
Operating System: Windows 95
I/O Ports:
- One 9-pin Serial Port
- One 25-pin Parallel Port
- One USB Port
- One Docking Station Port
- One 15-pin VGA Port
- One PS/2 Port
- Line in, Line out, Microphone In Jacks
- Video out port
CD-ROM: Included.
External Floppy Drive: Included
Screen size 13.3" active matrix (TFT)
Bus Speed: 66MHz
AC Adapter:
NOTE:

Battery is not covered under warranty. It may or may not hold charge. Even if the battery does not hold charge, you can use the laptop with the AC adapter. Simply plug the adapter in your wall outlet and you are in business. You can always buy a new battery if you like.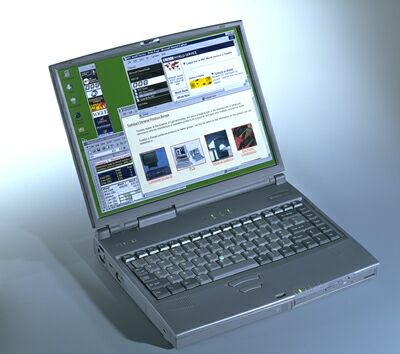 When new in 1998, this laptop retailed for over $4,000.