Tyan Toledo i3100 (S5207G2NR) Socket 479 Motherboard
Socket 479 P4 FSB 533/667, Intel 3100 MICH chipset, DDR Up to 4 GB, SATA, RAID, Video, USB, Dual LAN Support.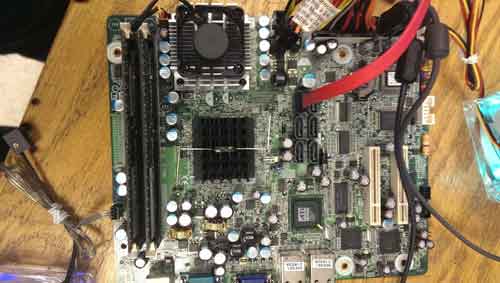 Comes with Intel Celeron M 440 1.86GHz / 1MB / 533MHz SL9KW CPU PROCESSOR and 2 x 512MB memory modules. The CPU is not removable.
Internal I/O Interface:

(1) 9-pin UART serial port (header)
(2) USB 2.0 (vertical) ports
(1) 18-pin TYFP header
(6) SATA ports up to 1.5 Gb/s



Rear Panel I/O Ports:

(1) 9-pin UART serial port
(2) stacked USB 2.0 ports
(1) 15-pin VGA port
(2) RJ45 10/100/1000 Base-T port with activity LED
Regulatory:

FCC Class B (Declaration of Conformity)
European Community CE (DoC)



Integrated Video :

ATI ES1000 VGA graphics controller
32 MB frame buffer memory



System Management:

Integrated H/W monitoring functions in Super I/O chip
(1) 4-pin CPU fan header with auto-fan control
(2) 4-pin system fan headers
Temperature and voltage monitoring
Wachdog Timer

Motherboard Specifications
Model:

Tyan Toledo i3100 (S5207G2NR) Socket 479 Motherboard
Processor Support:

Single mPGA479 socket
Supports Intel ® Coreā"¢ Duo, Coreā"¢ 2 Duo, & Intel ® Celeron M processors
VRD 11.0
Chipset:

Core Logic: Intel 3100 MICH
Super I/O: SMSC SCH5017



FSB:

Memory:

(2) DDR2-400 DIMM sockets
Up to 4GB of reg., ECC DDR2 memory



Expansion Slots:

2x 64-bit/66MHz PCI-X slots
On-Board LAN:

(2) Intel 82573L 10/100/1000 GbE LAN
(2) side-by-side RJ45 with LEDs



Integrated SATA Controller:

(6) integrated SATA ports up to 1.5Gb/s
Supports AHCI mode



BIOS:

AMI BIOS with 8Mb flash ROM
Supports ACPI
Auto detection of memory size
Auto configuration of SATA HD types
Multiple boot options including PXE
Power Management: S1, S3, S4 & S5
Form Factor:

Flex ATX (9" x 7.5ā€)
ATX/12V power connectors
(One 20-pin and one 4-pin)