Home > CPU and Memory > CPU: Coolers and Accessories > Socket 7, 8 & 5 > Interloper Socket 7 Heatsinks

Click here to go back


115644 - Interloper Socket 7 Heatsinks
Condition: Refurbished. Warranty: 30 days.
$14.99
Lot Of 5 Socket 7 Heatsinks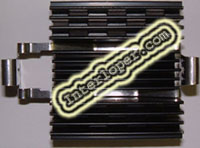 This auction is for a lot of 5 Socket 7 Heatsinks.
Many socket 5 and socket 7 processors work fine with just a heatsink. They don't generate enough heat to require a cooling fan. For such situations, this socket 7 heatsink comes in very handy. Your computer runs quieter and consumes a little less power.
Specifications:

Heatsink for socket 5 and socket 7 processors from Intel, AMD and Cyrix
Dimensions: 50mm x 50mm x 25mm