Home > Golf > Clubs > Hybrids > Acer XDS Wide Sole

Click here to go back

109216 - Acer XDS Wide Sole
Condition: New . Warranty:1 year .



---

Acer XDS Wide Sole Hybrid Clubs

Easy to hit and accurate

---

Club Head Material: 17-4 Stainless steel
Finish: Charcoal Black


Never hit a #1 iron in your life? Well, now you can - with the ease of hitting a driver.

Initially golfers were replacing only their hard to hit irons like the 1,2,3,4 and 5 with hybrids. However; it is increasingly becoming popular to have a complete set of hybrids for a consistent feel and playability throughout. We have all your options covered.

Perfect for golfers of all skill levels who are trying to bring consistency to their game.

Compare this Acer XDS wide sole utility irons to Callaway ® Heavenwood Hybrids at $225 each. A set of 11 Callaway ® Heavenwood Hybrids will cost you $2,475. Our Acer XDS set of 11 hybrid clubs costs less than one Callaway ® Heavenwood Hybrid. Isn't it a great buy!

Acer XDS wide sole hybrid clubs: Features:

If you thought hybrids were easy to hit, the much expanded Acer XDS 'Wide Sole' Hybrid design gives you even more. At 25% more volume and longer heel-to-toe dimensions, this expanded hybrid offers a larger 'sweet spot' and more forgiveness on off-center hits.

It's design is based on fairway wood parameters that allow for the super high launch characteristics of these easy to play hybrids.

The wide sole hybrid clubs places more mass further away from the face for a greater moment-of-inertia and thus, less twisting on off-center hits.

The lower center-of-gravity of this hybrid design is enhanced by the rails at the soleplate to help you power through grass without 'digging' at impact and get better quality contact with the ball.

With it's leading edge designed well forward of it's hosel, you will be able to create more lift and produce higher launch angle - thus more distance!

These game improvement hybrids will allow you to hit that high arching shot that you've always dreamed of. Engineered for standard iron lengths, the 'Wide Sole' Hybrid also provides you with additional control and accuracy.

Be the first to use these new game-improvement clubs at your course and take your game to a higher level!

The Acer XDS wide sole hybrid clubs come with high quality Apollo Shadow Steel Shaft. The Shadow's low Kickpoint helps produce higher trajectories for improved distance and softer landings. Features the unmistakable tight step pattern design.

Graphite options available.

We are confident that not only will you like these clubs, you will also recommend us to your golfing buddies.

Better equipment = lower scores

---
Individual clubs. Buy one or two or three or as many as you want:
Club #
Loft º
Lie º
Head
Weight
Face
Angle
Face
Height
Head
Volume
Club
Length"
Flex*
1
16
57
230
square
32
176
40.0
A/L/R/S
2
19
58
237
square
33
168
39.5
A/L/R/S
3
22
59
244
square
34
160
39.0
A/L/R/S
4
25
60
251
square
35
152
38.5
A/L/R/S
5
28
61
258
square
36
144
38.0
A/L/R/S
6
32
61.5
265
square
37
136
37.5
A/L/R/S
7
36
62
272
square
38
128
37.0
A/L/R/S
8
40
63
279
square
39
120
36.5
A/L/R/S
9
45
63
286
square
42
112
36.0
A/L/R/S
PW
50
64
293
square
45
104
35.5
A/L/R/S
SW
55
64
300
square
49
96
35.0
A/L/R/S
* Shaft Flex: A = Active, L = Ladies, R = Regular, S = Stiff
Important Notes when ordering:
We can customize the shaft flex, length, type and grips. If you have customization requirements, feel free to contact us.
Graphite Options:

Since Hybrid Irons replace irons, most people prefer them with a steel shaft. However; if you prefer graphite, we will gladly customize it accordingly.

Graphite comes in all kinds of price and quality ranges. We prefer the True Ace Red Storm as it is specifically designed for Hybrids and is not very expensive at $15.37 extra per club. Click Here for specifications on the True Ace Red Storm graphite shaft.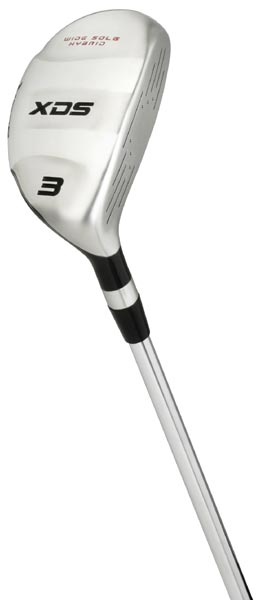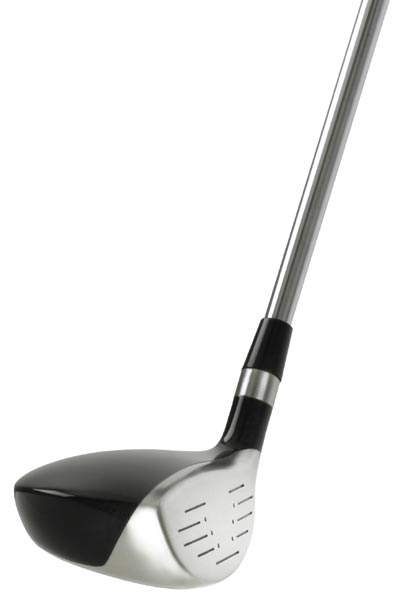 Acer XDS wide sole hybrid clubs - buy a set or individual clubs
---