Home

Click here to go back

110803 - Power Play System Q Hybrid Clubs for Ladies
Condition: New . Warranty:90 days .



Power Play System Q Hybrid Clubs

Easy to hit and customizable

---

Come fitted with graphite shaft - ladies flex

Material: 17-4 stainless steel
Bulge x Roll: 15"x15"
Finish: Black

Having trouble with your long irons? Try the Power Play System Q Hybrid Irons! The innovative hybrid shape is designed to be as easy to hit as your fairway woods, but with the accuracy you need in irons.

Power Play has extended the "Quad-Port" weighting technology of its System Q Driver to its System Q Hybrid Irons. The "Tri-port" weighting system not only allows for a lower deeper center of gravity and increased MOI (moment-of-inertia), but the three interchangeable weighted screws can be configured to encourage straight, draw, or fade trajectory.

The System Q Hybrid will enable you to customize your ball flight for greater accuracy and directional control.

This break-through utility club will help you hit the ball higher and longer than long irons of comparable lofts, while delivering exceptional control.

Let the System Q Hybrid clubs help you reach your potential. Take your game to a higher level.

Comes fitted with the Acer Velocity graphite shaft - a 66 gram lightweight shaft designed for a higher ball flight. A standard steel shaft is approximately 130 grams. At half the weight of a steel shaft, the Acer Velocity graphite with ladies flex helps you generate greater clubhead speed - translates to greater distance.

The high ball flight characteristics of the shaft plus the design of the clubhead helps you improve your trajectory.

Better ball flight, better clubhead speed, forgiveness on off center hits, customizable head for draw, fade or straight, ladies flex - all put together will help you enjoy the great game of golf.

Good Luck and spread the word!

Better equipment = Lower scores

---
Power Play System Q Hybrid Irons: Sold individually - buy one or more:
Club #
Loft º
Lie º
Head
Weight
Face
Angle º
Face
Height
Offset
Head
Volume cc
Club
Length
Flex
Bounce
Hand
2
16
60
224
0.5 º closed
34mm
-3.0mm
115
40.0"
ladies
RH/LH
3
19
60
231
0.5 º closed
34mm
-4.5mm
110
39.5"
ladies
RH/LH
4
22
61
238
0.5 º closed
34mm
-5.5mm
105
39.0"
ladies
RH/LH
5
25
62
245
0.5 º closed
34mm
-6.5mm
100
38.5"
ladies
RH/LH
6
29
62.5
252
square
34mm
-7.5mm
95
38.0"
ladies
RH
7
33
63
259
square
34mm
-8.5mm
90
37.5"
ladies
RH
8
37
63.5
266
square
34mm
-9.5mm
90
37.0"
ladies
RH
9
41
64
273
square
34mm
-10.5mm
90
36.5"
ladies
RH
PW
45
64
280
square
34mm
-11.5mm
90
36.0"
ladies
4
RH
GW
50
64
287
square
34mm
-12.5mm
90
35.5"
ladies
3
RH
SW
55
64
294
square
34mm
-13.5mm
90
35.0"
ladies
7
RH
Important Notes when ordering:
The price is per club. You may buy one or more.

Only # 2, 3, 4 and 5 are available in left hand. All sizes are available in right hand.

The shaft flex is ladies. If you want a different flex, let us know.

We build to order. You pick the clubs and their specs.

When making payment, mention your preferences in the comments / notes section of the payment/order form. We will build accordingly. Or, send us a separate email after making payment. Also let us know which club # you want, left hand or right hand. The default is right hand.
---
Options:
---
---
Weighted Screws & Allen Wrench kit
Prices at the bottom
If you plan to change the weights to experiment and set the clubs to your liking, order at least one kit. Later on, you can order more individual screws instead of the kit. Individual screws are $3 each.
---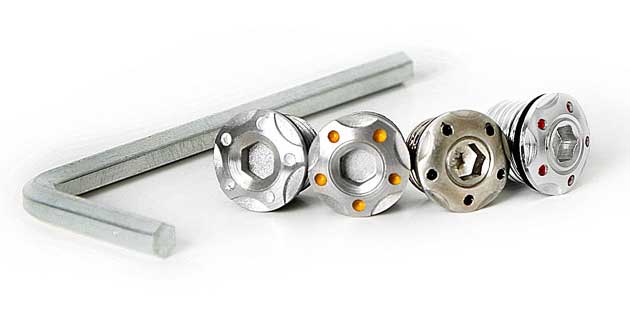 Used in Power Play System Q drivers, woods and hybrids
Kit includes one each of the following:
| Material | Weight |
| --- | --- |
| Steel | 4 grams |
| Tungsten | 6 grams |
| Tungsten | 8 grams |
| Tungsten | 12 grams |
| Wrench | |
---
---
Power Play Hybrids Headcover

Prices at the bottom

Protects your clubs from nicks and rattle


Stylish contour shape


Soft neoprene construction


When you order headcovers with your clubs, you don't incur any additional shipping charges
---