Acer XDS Insider
460cc Titanium Driver
---

Material:
Face: 6-4 Titanium
Body: 100% Titanium
Finish: Charcoal Metallic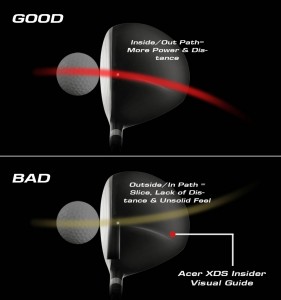 The most common tendency amongst weekend warriors is coming over the top and making an outside-in move resulting in a push, fade or the dreaded slice. It ruins that hole if not the whole game.


Designers have to be more creative in designing clubs - designing them around the way the average golfer swings, rather than creating perfect clubs and expecting golfers to swing that way.


A Golf Digest article states that if a golfer were able to change to more of an inside-out movement a golfer who swung 95 mph could gain as much as 42 yards. Of course, this would require a huge change in how the person swings the club and let's face it most golfers are not going to be able to put in that much time and effort. But through creating design features in the club head, the golfer can be encouraged to make more of an inside-out path.


This is how the Acer XDS Insider got its name. The profile of the head as well as the contour on the crown was specifically designed to create a mental picture of swinging from the inside to encourage one to swing the driver on an inside-out swing path instead of that dreaded distance robbing over-the-top move.


The XDS Insider also helps you in other ways. Internal weighting creates a draw bias shifting weight toward the heel to assist in rotating the head and squaring the face at impact. The face angle is a little more closed than normal to provide some additional corrective measures but cleverly disguised by the masking on the crown to provide a square appearance so they can just trust their natural swing.


Lastly, the Acer XDS Insider also boasts a variable face thickness cup face design to make the entire club face become one gigantic sweet spot. Makes it more forgiving on mis-hits.


Comes fitted with a graphite shaft and standard grip.

Hit it long, Hit it it straight