Power Play SYSTEM Q
 Adrenaline Driver
---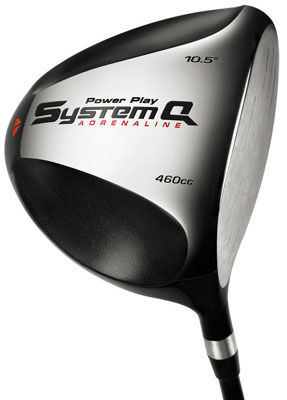 Material:
Face: 6-4 Titanium
Body: 100% Titanium
Finish: Charcoal Metallic
Faster
equals
Longer
---
Looking for an adrenaline rush off the tee? Then drive the club faster and the ball farther than ever before. The all-new Power Play System Q Adrenaline driver will fuel that rush.

SlipStream technology:
The bold looking, unique shape was aerodynamically designed for less drag or air resistance. The rounded edges and sculpted body allow air to flow around the clubhead with the least amount of resistance resulting into players increasing their swing speed with the same amount of effort.

To begin, we had a wind tunnel especially built for us in order to study the aerodynamics of various shaped drivers. We were looking for smoke that had good attachment to the body and once the smoke waves passed the rear of the club they would converge and continue on their original path. Once we found certain features that seemed to allow air flow to pass more efficiently we began the process of piecing together our first prototype. After a few more modifications and prototypes, the end result was the Power Play System Q Adrenaline driver.

Plasma welded:
There is one other piece of technology that sets this club apart and that is how it is constructed. There are two methods of welding titanium pieces together. In the construction of a traditional 4-piece forged titanium head, the pieces are permanently joined together by gas tungsten arc welding (GTAW) or also known as tungsten inert gas (TIG) welding. Plasma Arc Welding (PAW) is an improvement over GTAW by providing a cleaner, more efficient weld that requires less solder and prevents uneven welds that create weak spots from over-polishing.

In addition, plasma welding can help eliminate up to 7g of weight in a 460cc titanium driver. When manufacturers are looking for every possible gram of weight to utilize elsewhere, 7g is like winning the lottery. What this does is allow all of this added weight to be repositioned deep within the Power Play System Q Adrenaline driver so one can hit the ball longer and straighter. The result is the same high performance but at a fraction of the cost of the more expensive cast titanium heads on the market.

High rebound Face:
Lastly, the Power Play System Q Adrenaline driver is equipped with a variable face, cup face construction to increase the ball speed and distance even on off-center shots.