Acer XF Leggera
The longest driver of them all
---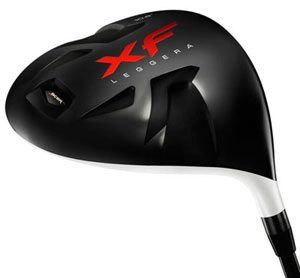 Material:
Face: 6-4 Titanium
Body: 100% Titanium
Finish: White crown and Charcoal Metallic sides
Manufacturers can™t just magically remove weight from a massive 460cc titanium driver without some consequences. It's tricky business. Using very precise manufacturing technologies, weight was removed only from the crown area so as not to affect the strength of the overall clubhead.
Available in lofts of 9.5 º, 10.5 º and 12 º. If you don't want to have the longer length, you can ask for length to be customized to 45". If you don't want to have the lighter clubhead, you can go with the standard Acer XF driver - that is also available in a draw version.
Comes fitted with the high end Winn DSI AVS 17 soft comfortable grip with all weather playability.

You see the pro's hit 300 yards plus drives and wish you could too. To do so, you can try and increase your clubhead speed through building your strength and flexibility. You may also help yourself with a lighter or longer driver.
We hesitate in having a driver longer than 45" as that means a slightly heavier driver and also potential loss of control. 45" works just fine and that's the recommended length by most golf manufacturers. You can also go with a very lightweight shaft but if you use a regular clubhead, it feels unwieldy. When the Acer XF Leggera clubhead was introduced, it was intriguing. Most driver clubheads weigh 200 grams. The Leggera clubhead is 190 grams. That opens up a couple of options. You can have a lighter 45" driver and that will give you greater clubhead speed but it will feel different - feel matters. Or you can add an inch to the shaft length - that will feel similar to a 45" driver but longer . A longer driver is always more tempting as that translates to distance. However; you risk loss of control. A long drive does you no good if you end up in the water or out of bounds.

The Acer XF Leggera is designed specifically for those who already hit a fairly straight ball but seeking the maximum amount of distance off of the tee. If you are not of Italian descent, Leggera translates into light.

Time to do some testing.

We fitted the Leggera clubhead with a True Ace Blue Crush shaft. I like it's low torque and firm feel and use it on most of the drivers I test. Off to the testing grounds.



On the range, it took a little while to get the ball position right - just like with any new driver. Move it too far forward and you may end up with too strong a draw - move it too much back and you end up with a push. Once we got the ball position right, the rest was pure joy.

After a good warm up, we started to get this beautiful boring ball flight. Shot upon shot upon shot resulted in solid distance ~ 300 yards easy. Next test - take it to the golf course. Same great performance. The clubhead is very well balanced. The higher MOI (moment of inertia) and the lower CG (center of gravity) gives you a larger hot face, greater forgiveness on off-center hits and better ball trajectory.
Comes fitted with the UST-Mamiya Competition Series Graphite shaft. Works great for most people. If your swing speed is higher than 105MPH, you may consider the True Ace Blue Crush shaft. It's costs a little bit more but has very low torque and gives you a very firm feel. If you have preference for different shafts, email us and we will quote you the price difference.
What if we fit the Leggera with an ultralight shaft and grip?
Cleveland Golf started fitting drivers with ultra light shafts and grips. The premise being that the lighter the total weight of the club, the faster your swing speed. Many pro's and weekend golfers have made that switch but Cleveland Drivers are expensive at over $300. We decided to test the Acer Leggera with a 49 gram shaft and the Winn Lite 25 gram grip from Winn grips. Here are the results:


Acer XF Leggera
Ultra Light

Acer XF Leggera

Acer XF

Head Volume
460cc
460cc
460cc
Head weight
190gm
190gm
200gm
Length
46"
46"
45"
Shaft used in testing
Acer Super Leggera
True Ace Blue Crush
True Ace Blue Crush
Shaft weight
49 grams
65 grams
65 grams
Grip used in testing
Winn Lite
Karma RF10
Karma RF10
Grip weight
25 grams
48 grams
48 grams
Swing Speed:
109.6
104.5
101.3
There is a bell curve as to what is the optimum length and weight that will generate the greatest amount of clubhead speed PLUS making solid contact. Therefore it is impossible to say how much and if a player can swing the longer and lighter club faster. But for every 1 MPH faster you can swing the club and make solid contact, you are talking about an extra 2.5 yards. In our above experiment, the Acer XF Leggera Ultra Light was generating 5.1 MPH faster swing speed. That potentially translates to an additional 12.75 yards off the tee. That means a club less on your next shot. Think about it. Do you think you can handle that?
Note:
If you need a different shaft, flex, grip or want to change length etc., feel free to contact us. You can mention your preferences in the notes section of the order form or send us a separate email.
How to Order?
Just make your selection below and click Add To Basket.