---
Oxygen Type X Hybrid Club
Easy to hit and accurate
---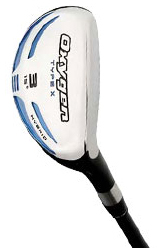 Perfect for golfers of all skill levels who are trying to bring consistency to their game.

Compare the Oxygen Type X hybrid / utility irons to the Ping G5. One Ping G5 hybrid costs $130.
Features
:
The longer profile of the Oxygen Type X hybrid clubs from toe to heel and wide sole design provides iron-like accuracy with wood-like playability from practically any lie.


The sloped crown design positions the center of gravity low and away from the face to promote more spin and lift for greater control.


The compact head design ensures playability from all conditions, allowing golfers to use the Oxygen Type X Hybrid from anywhere on the course to hit a high, long, soft-landing approach shot.


The Oxygen Type X hybrid clubs come with high quality Apollo Shadow Steel Shaft. The Shadow's low Kickpoint helps produce higher trajectories for improved distance and softer landings. Features the unmistakable tight step pattern design.


Better equipment = lower scores