Acer XDS React irons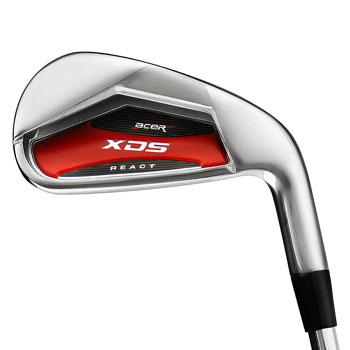 Better  equipment = Lower scores
Comes fitted with high quality Apollo Shadow  Steel Shaft. The Shadow's low Kick Point helps produce higher  trajectories for improved distance and softer landings.
Sniper Accuracy
  Super Distance >>>
Who says an advanced game-improvement model can't  look conventional? How did we do this? First we started out with a  generous face area to instill confidence at address. The XDS React has
an increased cambered sole radius accounting for a variety of turf  conditions regardless of one being a digger or sweeper. Plus we offered  just enough offset and a thinner top line that provides less of a  "chunky" appearance than most game improvement irons on the market  today.
The Acer XDS React irons look conventional but  shrouded within the ultra-deep, asymmetrical multi-tiered cavity area is  its extraordinary performance. Using new tooling techniques not  available even as little as a year ago, we were able to carve out more  material and redistribute it in the most optimum position.
Not only will you have precision accuracy and  unbelievably solid feel at impact, but the Acer XDS React irons are  sneaky long too. If you are
serious about your game, the Acer XDS React is one serious iron that  just happens to be a lot of fun to hit!
The Acer XDS React Irons blend precision  accuracy, superior distance, and solid feel to create the most forgiving  iron you've ever played.
Come fitted with standard black & white grips.
Perfect for golfers who are trying to bring consistency to their  game.