---
Edge Putting Rail 90 ° - Red - STRAIGHT
Do you have a œstraight back and through stroke? Want it to be perfect under pressure? Meet the 90˚ Edge Putting Rail.
---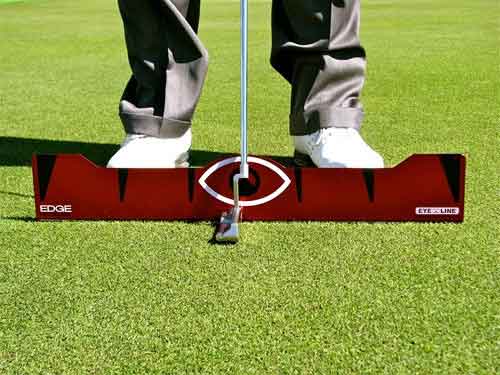 Features:
---
Product Tour:
The world's best players walk onto the putting green with the Edge, you can too!
If you like to bring the putter straight back and through to your target then the 90˚ Edge Putting Rail is the ideal tool to train the path and shape of your stroke.
When is the 90˚ rail the correct one for me?
When you set up with your eyes directly over the line of the putt, then a straighter stroke is the result.
If you use a face balanced putter, it does not want to rotate open and closed.
If you rock your shoulders up and down around your spine - not on a plane around your spine.
If your stroke flaw is taking the putter inside the line, then practicing on the 90˚ rail will help you overcompensate by bringing the putter outside the line too far. Your stroke will naturally stop going inside the line, and find a middle ground of a slightly rounded stroke.
See, Feel and hear a stroke you can trust with the Edge Rail:
Professional Grade

- Made of USA steel with a powder coat finish.
Markings on the Face of the Rail

- check your putter's distance back and through and shaft rotation.
Rail may be use with or without the Edge Mirror.
Non-skid backing makes it perfect for indoor or outdoor practice.