My favorite driver these days is the Acer XP905 460cc Titanium driver. It allows me to easily move the ball both ways and I use the Blue Crush graphite shaft with stiff flex. I like it as it suits my swing (111 MPH swing speed) and gives me consistent results. It is light weight (62 grams) with a very low torque of 2.9.

I wanted to see what will happen if I switch to a shaft that has a higher torque. I picked the Apollo Ultralight Shadow graphite shaft. It is also very light at 62 grams but it's torque is 5.0. Flex was kept Stiff just like the Blue Crush.

Findings:
At my full swing speed (110 to 111 MPH), the Blue Crush gives me solid consistent results. The Apollo Ultralight could not give me similar consistency and I was getting strong pulls instead.
At reduced swing speeds (95 to 100), the Apollo Ultralight gives better results. In fact it started giving me those boring ball flights that you see on tour.
Even at the reduced swing speed, the Apollo Ultralight was delivering almost the same distance as the Blue Crush at full speed.
Conclusion:
If your swing speed is between 90 and 100, a low torque shaft like the Blue Crush will be a detriment to your long shots. A higher torque shaft (4.5 to 5.5) will suit your swing better and deliver consistent results.
Of course the ideal thing is to get your swing analyzed by an unbiased pro with a computer analysis system and a range of shafts.
N.K. Babar
InterloperGolf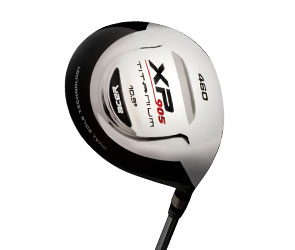 Acer XP905
Blue Crush graphite shaft
Apollo Ultralight Shadow graphite shaft